Our Squeeze Horns
Update 10/18 I fell in love with squeeze horns, aka taxi horns, bulb horns, clown horns… as a boy, the first time I saw Harpo Marx on tv. Many many years later, on a trip to India I discovered that squeeze horns were still very much in use – you could hear them everywhere! I bought a half dozen, took them home with me to the U.S. and set up shop at SqueezeHorns.com. Sadly the business failed… the problem was A) I didn't know what I was doing, B) Shipments always arrived damaged, and finally C) Life intervened and I got busy with a career change, moving and well, more than you need to know about 😉. But I want to get the business going again, so I'm looking for manufacturers. Someone who will work with me in some custom designs and also packaging. Follow along! Thanks!
Looking to get horns back in stock. If you're a manufacturer, here are the problems I'm hoping to solve… Horns come to me pre-boxed individually with their own padding for immediate shipping. High-quality rubber bulbs (slow down oxidation). Either a custom molded bicycle handlebar attachment bracket as part of the horn itself, or an exceptionally well-designed and robust separate attachment bracket. If you can provide horns to this specification, or you know someone who can, please contact me!
As of May, 2014 I remain on hiatus! When the horns are for sale again, the Paypal buttons will return.
Life intervenes! Sorry! As much as I love these horns and making them available, the fact is it's been more of a hobby than a business. I've been traveling and relocating. I hope to have the store open again at some point but can't say when.  In the interim you might find a similar horn available through

THIS STORE

on Amazon.
To leave feedback, or share your squeeze horn pictures and stories please visit our Facebook page.
.
.
.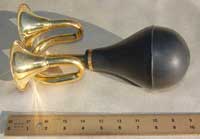 10″ Double Bell Brass Squeeze Horn
.

12″ Medium Loop Brass Squeeze Horn
.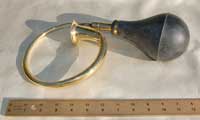 12″ Large Loop Brass Squeeze Horn
.

14″ Straight Narrow Brass Squeeze Horn
.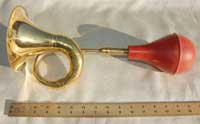 16″ Big Bell Brass Squeeze Horn Red Bulb
Sorry, sold out.
.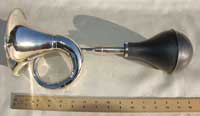 16″ Nickel Plated Medium Loop Squeeze Horn
Sorry, sold out at this time.
.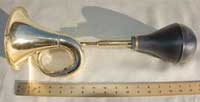 16″ Brass Loop Squeeze Horn
Sorry, sold out at this time. I have a few that are dented.
Some more than others. If you're ok with a dent, email me,
I'll send you a photo and we can work out a price.
.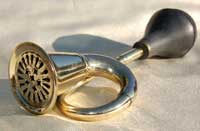 16″ Covered Bell Brass Squeeze Horn
.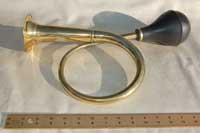 16″ Large Loop Brass Squeeze Horn
Sorry, sold out. Currently unavailable.
.