Earliest car horns were all bulb horns.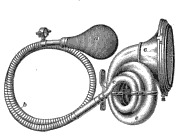 From the same book came this picture of a reed. It's very similar to those in the squeeze horns I sell, but with a screw to adjust tension of the reed.
I just did some experimenting with a reed I have and discovered that by pulling the top 'tongue' of the reed away from the main portion, ie. increasing the gap, I could lower the tone. This was done by bending the reed, which is a bit dangerous considering it's impossible to bend it back.  At some point I'll do some serious experiments with adjusting the pitch and volume, and I think adding an adjusting screw could work!