University of Michigan has a 2016 video describing the original taxi horn tones of the Gershwin score. [Updated 11/19 See also new Taxi Horns post.]

Reader Jan (see comment below) shares an insight into the notes used in the original recording. That lead to this article (lots of interesting details): 1929 Gershwin Taxi Horn Photo Clarifies Mystery. It would seem the mystery of the actual tones used in the original recording is solved!
A comment from Bill Schuetter today provided the missing clue to discovering a source for tuned squeeze horns. Bill provided a link to a YouTube video of the LA Philharmonic performing Gershwin's 'American In Paris'. There they are! and certainly orchestras around the world would need these to perform Gershwin. I found a  few sources. See links below.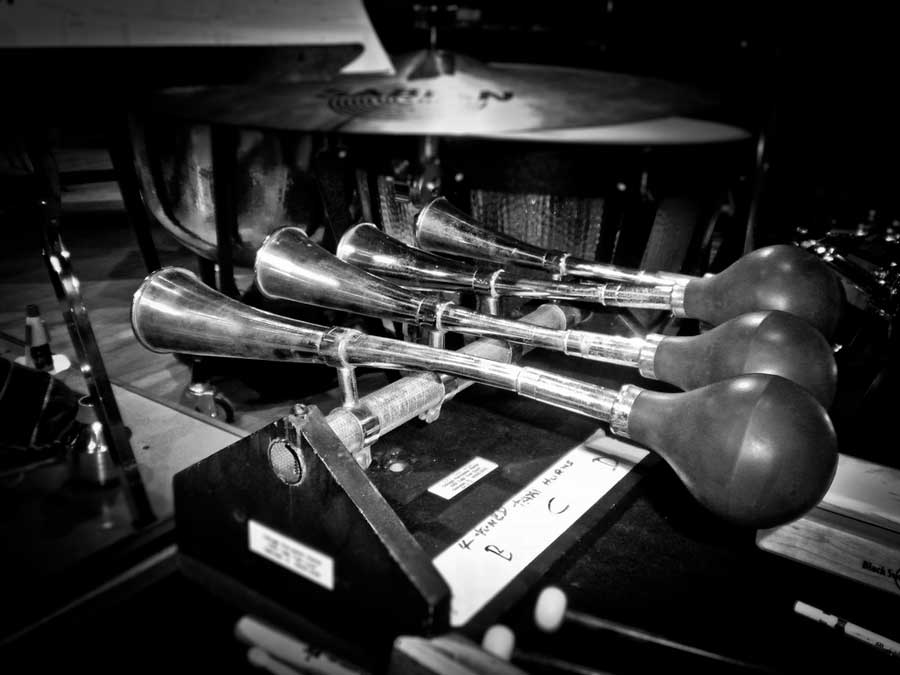 [Update 5/11/15] There you go! Owner Russ Knutson, of Chicago Percussion Rental comments below to point out that the horns in this shot came from his shop.
From  CaliforniaPercussion.com (renting at $100 a week + shipping).
George Gershwin wrote for Tuned Taxi Horns in his composition An American in Paris. These horns come in a set of 4 pitches: A, B, C, & D. We have 3 sets of tuned taxi horns in our rental department and they all sound FANTASTIC! You will have no issues with our taxi horns; no muffled or dog barkish sounds, just pure taxi horn tone! As a percussionist for 10 years in the San Francisco Symphony, Trey Wyatt has used these horns for over 50 performances without failure.

The taxi horn part is normally played by one player. Gershwin actually writes for 2 players to each play 2 horns. However, it works brilliantly for this part to by played by 1 player, the cymbal player, as the cues for all the horn parts are written in the cymbal part.
Certainly not cheap to purchase. That's about $750. U.S. From Kolberg in Germany.
A little cheaper at around $650 (but without the stand) from Jam in the U.K.
Most orchestras rent the set of  horns. In the U.S. often from Steve Weiss Music outside of Philadelphia.
Also from LA Percussion Rentals. FSTJ Percussion in Quebec, Canada, and above-mentioned California Percussion.
I'll be looking for a U.S. source to purchase. I've also emailed an Indian manufacturer to see what the thinks about custom building tuned horns.